What's New?

Back
Jammu & Kashmir Prepares to Further Decrease Newborn Deaths
Pertinently, India Newborn Action Plan (INAP) is India's committed response to Global Every Newborn Action Plan (ENAP) at the 67th World Health Assembly to advance the Global Strategy for Women and Children's Health. INAP lays out a vision and a plan for India to end preventable newborn deaths, accelerate progress, and scale up high-impact yet cost effective interventions. The progress and contribution by states on INAP goals has been satisfactory with each striving to meet its individual targets. Similarly, Jammu and Kashmir (J&K) is among the states which have achieved the set targets and is aiming beyond.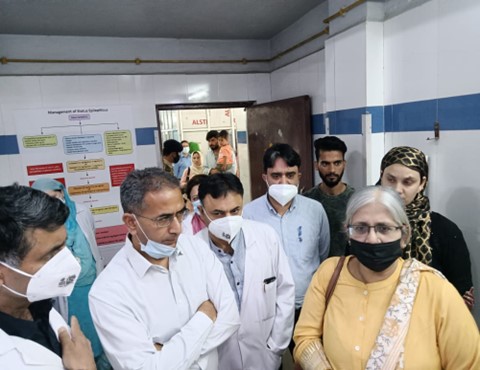 A remarkable decrease in Infant Mortality Rate (IMR) has been achieved in J&K following implementation of the IMR roadmap. To achieve further, a district level action plan to reduce NMR as per INAP has been initiated and a meeting was convened to share and deliberate it. A detailed presentation on current scenario and strategies aligned with INAP developed with technical support from Norway India Partnership Initiative (NIPI) was shared with meeting participants.
The meeting was chaired by Additional Commissioner, Child and Adolescent Health, MoHFW and attended Head of Department Paediatrics, Government Medical College Jammu/Srinagar, Head of Departments from Government Medical Colleges, NIPI and UNICEF as well as program managers from National Health Mission (NHM), J&K. Dr Sumita Ghosh, Additional Commissioner also visited many health facilities in districts Srinagar, Baramulla, Jammu and Reasi along with NHM officials and appreciated the support of NIPI team in operationalizing newborn and child health activities as per the INAP roadmap in the Union Territory of J&K.