Making News

Back
Policy to Field: Preparing Health Systems for the Anticipated 3rd COVID 19 Wave
India witnessed a huge surge in cases during the second wave, putting an unexpected acute demand on the health systems to work beyond their capacity to minimize its impact. Vaccination against COVID-19 began in phases across the country, beginning first with those above 60 years and gradually opening up for all above 18 years of age. Staging of vaccination drives in this staggered manner was based on the risk stratification approach.
However, experts believe that the country may witness a third wave of Covid-19 which can affect children more considering the demographic shifts observed in the first two waves. And, considering among the COVID-19 vaccines currently available in India, none are yet licensed for use in the paediatric age group, children will be vulnerable hosts. . This necessitates an urgent need of extensive planning from policy to field to strengthen and prepare the existing health system to respond effectively.
Norway India partnership Initiative (NIPI) has developed the "COVID District Action Plan" for pediatric age group (0-18 years) to enable extensive planning from policy to field level which can lead to better health system preparedness and mount an effective response to this anticipated next wave. This document aims to provide guidance to the programme managers and district administration for specific actions related to COVID-19 preparedness for 0-18 year age group taking into consideration the strength of existing health systems.
The plan includes service delivery framework, case management pathway, human resources, logistics and training requirements with clear delineation of roles and responsibilities of health functionaries at various levels of healthcare system (community, SC/HWC/PHC/CHC/DH/SDH & medical colleges).
The plan also describes standard treatment protocols in paediatric age groups in accordance with existing government guidelines.
Additionally, a facility level assessment tool is also included to assess the availability and adequacy of human resource, supplies/consumables, drugs and diagnostics services at the participating health facilities; thus enabling identification of key bottlenecks and gaps which in turn will help preparation of a district level action plan. This tool is linked to a dashboard enabling data visualization and allows tracking of field level activities, progress and achievements.
Meeting with ED, AED, SPO Child Health and other stake holders on District Action Plan
The COVID district action plan was presented to the Government of Bihar and has been appreciated and approved. The state government has issued directives to all district administrations to initiate and ensure health system preparedness in their respective districts following the approved COVID district action plan.
NIPI Newsletter || January-March 2022
Know More →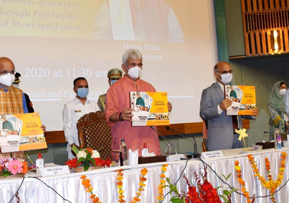 Inspiring New Hope - Transforming Healthcare Landscape in Jammu and Kashmir
Know More →
Promoting Health in India || April 2021 Edition
Know More →
View More →